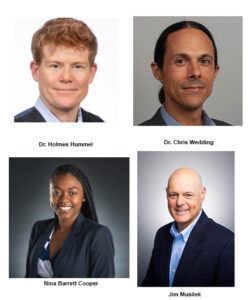 RTCC's 2022 Cleantech Innovation Awards to Celebrate 10th Anniversary of Supporting Clean Technology in North Carolina
Speakers for the Research Triangle Cleantech Cluster's 2022 Cleantech Innovation Awards include keynote address and three inspirational "lightning talks" in addition to awards presentations
RALEIGH, N.C. (October 18, 2022) – The Research Triangle Cleantech Cluster (RTCC), an initiative of business, government, academic and nonprofit leaders focused on accelerating the growth of the regional and statewide cleantech economy, has announced the speakers for its 2022 Cleantech Innovation Awards to be held on Wednesday, November 9, 2022 from 4:30 – 8:00 P.M. at the SAS Institute in Cary, N.C. At the event, RTCC will feature the award winners and celebrate the 10-year anniversary of the organization.
The keynote address will be delivered by Dr. Holmes Hummel, the founding co-director of Clean Energy Works, a catalyst for inclusive financial solutions that expand business opportunities, investment, and civic participation in the clean energy revolution. Dr. Hummel is also managing director for Energy Equity & Just Transitions at Stanford University's Institute for Energy, which forges partnerships with energy companies and policymakers who can rapidly scale innovative solutions. A tenth-generation North Carolinian, Dr. Hummel's ancestors were among the pioneers in the state's electric cooperatives, and Dr. Hummel continues to engage in collaboration between those organizations and Clean Energy Works, specifically in support of energy policies outlined in Governor Roy Cooper's Clean Energy Plan.
Interspersed among the awards presentations, the program will also include three five-minute "lightning talks" to inform and inspire attendees. The topics and speakers include:
Innovative Cleantech Technologies by Dr. Chris Wedding – Dr. Wedding is an Executive In Residence at the Fuqua School of Business, where he teaches energy finance and management consulting via the Fuqua Client Consulting Practicum, and a Professor of the Practice: Strategy and Entrepreneurship at UNC-Chapel Hill's Kenan-Flagler Business School. He is also the founder of Entrepreneurs for Impact (a private peer group for investor-backed CEOs, founders, and investors solving climate change) and the managing director of IronOak Energy Capital (climate tech investment banking). A former private equity investor, award-winning professor, startup founder, investment banker, and executive coach, his focus is climate tech, renewable energy infrastructure, impact/ESG investing, corporate sustainability strategy, and green real estate. A frequent speaker at energy and finance conferences. Dr. Wedding also writes about climate finance, conscious leadership, personal productivity, and social justice via his newsletter ZERO: Climate Finance. In addition, he hosts a podcast, Climate Torch, which interviews climate CEOs, founders, and investors.
Diversity, Equity, & Inclusion in the Clean Energy Transition by Nina Barrett Cooper – Ms. Cooper is an environmental and community leader who was instrumental in the launch of the City of Raleigh's Neighborhood Enrichment Services – Partnership Raleigh Community Climate Internship Program, a public-private partnership between the City of Raleigh and local businesses. In her work with Raleigh, Ms. Cooper conducts outreach/recruitment, curriculum development, and assists in program management. In addition to her work with the City of Raleigh, Ms. Cooper works with Mecklenburg County and has held several professional policy and government affairs positions in city, county, regional, and state government, including training in the Climate Reality Leadership Corps.
Cleantech Energy Transformation by Jim Musilek – As the vice president of Innovation and Business Development for the North Carolina Electric Membership Corporation (NCEMC) in Raleigh, Mr. Musilek leads a team whose primary responsibilities include supporting North Carolina's 26 electric cooperatives and their owners/consumers in meeting their Brighter Future goals by investigating, testing, and deploying innovative technologies and business models that promote beneficial electrification and sustainable technologies. With more than 29 years of utility experience, Jim has worked on numerous cleantech projects, including community solar projects, microgrid/energy storage implementations, distribution modernization efforts, advance demand response and other "edge of grid" programs, integration of NCEMC's 1st generation distributed energy resource management system (DERMS) tool, and development of a fuel hedging program.
"We are thrilled that this year's Cleantech Innovation Awards ceremony will feature several cleantech leaders offering informative and inspirational insights, in addition to the recognition of our incredible award winners," said Dr. Deb Wojcik, Executive Director of the Research Triangle Cleantech Cluster (RTCC). "This is the perfect way to celebrate the10-year anniversary of our organization's dedication to advancing North Carolina's cleantech sector, and we are excited to celebrate the people and accomplishments of our extraordinary cleantech community."
RTCC's Cleantech Innovation Awards recognize the people, organizations, and projects driving cleantech innovations, creative deployment solutions, and workforce development initiatives that are expanding the reach and impact of the cleantech sector in North Carolina. Award categories for the fourth annual Cleantech Innovation Awards recognize individuals, teams, organizations, local governments, and industry partners who have demonstrated a positive impact in clean energy systems, smart utility technologies, clean transportation, and workforce development across eleven (11) award categories.
Individuals & Small Teams
Cleantech Champion of the Year
Cleantech Entrepreneur Award
Cleantech Research Innovation Award
Organizations
Equity in Cleantech Award
Diversity in Cleantech Award
Cleantech Talent Development Award
Cleantech Impact Awards
Cleantech Impact: Energy
Cleantech Impact: Transportation
Cleantech Impact: Water
Cleantech Impact: Local Government
Cleantech Impact: Economic Development
The Annual Cleantech Innovation Awards Ceremony and networking reception will be held on Wednesday, November 9, 2022 at SAS Institute in Cary, N.C. from 4:30 – 8:00 P.M.
Learn more about how to partner with RTCC as a sponsor for this event. Regular registration available until October 25.
About Research Triangle Cleantech Cluster (RTCC)
The mission of the Research Triangle Cleantech Cluster (RTCC) is to accelerate growth and leadership of the cleantech economy, leveraging the unique concentration of industry, academic, and government leaders in the Research Triangle to create benefits through innovation, deployment, and talent in the region, North Carolina, and beyond.
Press Releases