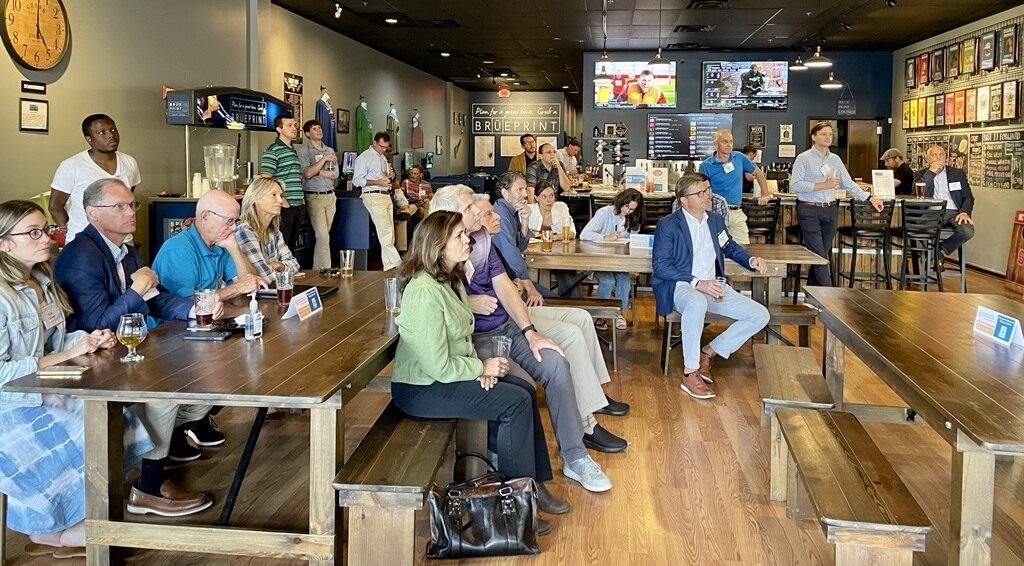 Cleantech Catalyst Networking Series
RTCC's Cleantech Catalyst series connects a growing network of industry, academic, government, and community leaders interested in current issues and innovations in cleantech. Each event features a short program of brief "spark talk" presentations about new technologies, solutions, and products affecting the cleantech ecosystem of North Carolina and beyond.
Cleantech Catalysts include ample time for networking with the goal of sparking potential areas of overlapping interest and collaboration among participants.
Cleantech Spotlight Series
RTCC's Spotlight Series highlights the people, organizations, and ideas advancing the cleantech ecosystem in North Carolina and beyond. These informative events feature cleantech thought leaders and provide insights into the latest technologies, innovations, and trends affecting the cleantech economy. Attendees have the opportunity to learn, engage with leading experts, and create new connections.
Cleantech Entrepreneurship Energizer
RTCC's Cleantech Entrepreneurship Energizer brings together a diverse group of cleantech entrepreneurs, funders, industry leaders, government officials, supporting organizations,and technology experts interested in advancing the cleantech entrepreneurial ecosystem in North Carolina and beyond. Attendees come together to identify opportunities and barriers for the field and ways we can work together to accelerate cleantech innovation and entrepreneurship.
Cleantech Connect Career Fair
RTCC's Cleantech Connect Career Fair connects employers in the cleantech/clean energy industry with job seekers, students, and skilled professionals. The event provides opportunities for companies to build awareness about their career opportunities at their companies and directly engage with potential employees.
Cleantech Innovation Awards
RTCC's annual Cleantech Innovation Awards, our largest event of the year, brings together professionals from across the state to recognize the work that has been done over the past year to accelerate the growth and leadership of the cleantech economy. The awards ceremony features dynamic guest speakers and provides insights and inspiration about the cleantech industry. The event includes ample networking time, allowing for attendees to celebrate a successful year with new and existing connections.
Cleantech Funding Series
The Cleantech Funding Series provides key information and opportunities to form connections focused on federal, state, and private funding for industry, entrepreneurs, municipal governments, and other organizations. Funding events feature presentations from organizations and individuals who can help provide critical context and connect the dots about grant programs, tax credits, and government funding available to accelerate cleantech adoption and deployment.
VIP Reception
RTCC's VIP Receptions are bi-annual invitation-only events that bring together RTCC Board Members, Leadership Members, and VIP cleantech industry stakeholders. VIP Receptions are designed to celebrate the cleantech industry and provide attendees opportunities to cultivate existing and new connections with fellow industry leaders in an informal networking atmosphere. VIP Receptions take place at unique venues across the greater Triangle region, often including a special tour or other group activity.
Upcoming Events