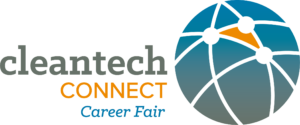 Presented by:


Join the Research Triangle Cleantech Cluster and the North Carolina Clean Energy Technology Center for the Annual Cleantech Connect Career Fair taking place on Monday, October 2 from 1:00-5:30 PM at the McKimmon Center on NCSU campus. The Cleantech Connect Career Fair connects employers in the cleantech and energy industry with job seekers, students, and skilled professionals.
Employers
Cleantech employers with operations in the Research Triangle and surrounding region who are seeking employees/interns and greater awareness of their companies are encouraged to participate in the 2023 Cleantech Connect Career Fair.
WHAT POSITIONS CAN YOU FILL?
Any and all positions ranging from entry-level jobs and internships to account executives and project managers. Students and professionals of different backgrounds and levels of experience will be in attendance seeking jobs in engineering, data analytics, research, project management, business admin, sales, finance, PR, marketing, & more.
EMPLOYER FEES
| | |
| --- | --- |
| RTCC Board and Leadership Members | Free |
| Entrepreneurs | $50 |
| Companies with <100 Employees | $150 |
| Companies with >100 Employees | $300 |
| Staffing Solutions Firms | $500 |
Sponsors of the 2023 State Energy Conference and RTCC Members receive $50 off exhibitor pricing. Please contact Mikayla (mikayla@researchtrianglecleantech.org) for discounted rate.
EXHIBITOR BENEFITS
Access to job & intern candidates
Marketing in event promotion
6' skirted table with two chairs
Free wireless internet
Electricity (additional $15 fee)
Job Seekers
Ever thought about a career in cleantech, supporting Clean Energy, Smart Transportation, Environmental Services, Advanced Manufacturing, Smart Water, Sustainability and more? Cleantech professionals make a real difference to the world – and the Triangle is home to the industry's biggest employers.
We invite you to the FREE Cleantech Connect Career Fair on Monday, October 2, from 1:00-5:30 PM at NCSU's McKimmon Center in Raleigh!
WHAT POSITIONS ARE BEING FILLED?
Various opportunities will be available, ranging from entry-level engineering techs and business internships to account executives and project managers – there is something for everyone, across backgrounds and levels of experience.
WHY PURSUE A CLEANTECH CAREER?
A career in cleantech is a career with a purpose where you can help create a healthy and sustainable planet. If you're excited about clean energy, smart transportation, environmental services, advanced manufacturing, or other sustainability/technology fields – this is your industry, the Triangle is the region to work in, and now is the time to find your career.
Participating Employers
Upcoming Events