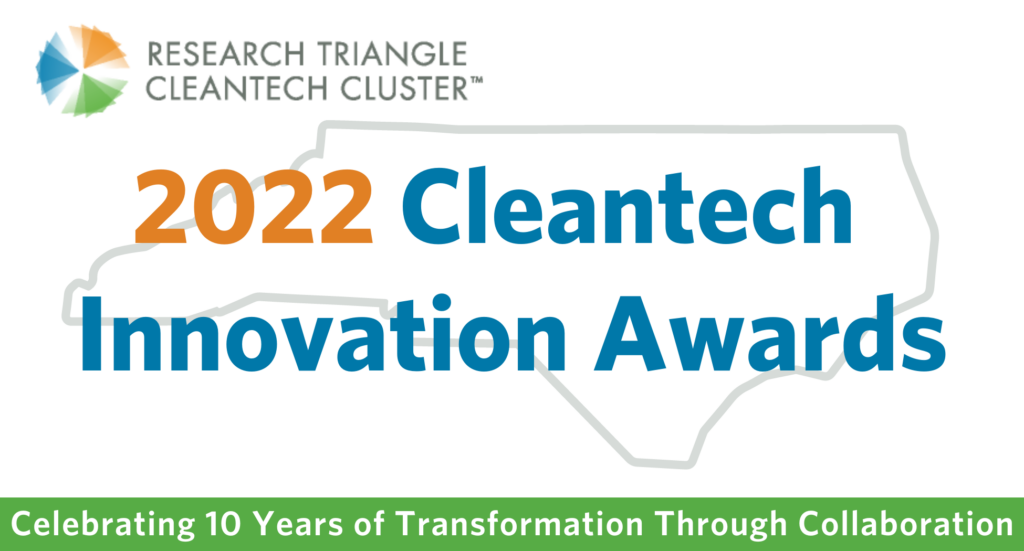 About the Awards
The Research Triangle Cleantech Cluster created the annual Cleantech Innovation Awards to recognize cleantech initiatives, projects, and innovations from companies, organizations, and government agencies that have contributed to the growing cleantech ecosystem in North Carolina.
The awards celebrate a range of creative solutions from water technologies to renewables and new transportation models, among others. The awards will be judged by leaders from the cleantech industry and public sectors. All award nominees will be invited to the Cleantech Innovation Awards, and winners will participate in an invitation-only reception to network with industry peers.
Award Categories
Register for the Event
The Awards Ceremony will be held Wednesday, November 9, 2022 from 4:30 - 8:00 P.M. at the SAS Institute in Cary, N.C. In addition to the awards ceremony itself, this fantastic event will include speakers and networking opportunities with hors d'oeuvres, beer, and wine included.
Join us for this unique opportunity to connect with over 200 cleantech leaders to celebrate the great accomplishments in cleantech from the Research Triangle region and across the state!
 
Member: $85/ticket before October 25 
Each member organization receives two free tickets. Please contact Mikayla Cardona to request free tickets. Additional tickets are available at $85 each before October 25. After October 25, members will be charged the Late Registration fee.  
 
Non-member:  
Early Registration: $100 (On or before September 30)    
Regular Registration: $115 (October 1 - October 25)    
Late Registration: $130 (October 26 - November 8)   
Same Day Registration: $150 (November 9)  
 
Non-profit and government: $85/ticket before October 25 
Please contact Mikayla Cardona to purchase non-profit/government employee discounted tickets. After October 25, non-profit and government employees will be charged the Late Registration fee. 
Attendees are required to be fully vaccinated for COVID-19. Please see the registration page for additional information.

Presenting Sponsor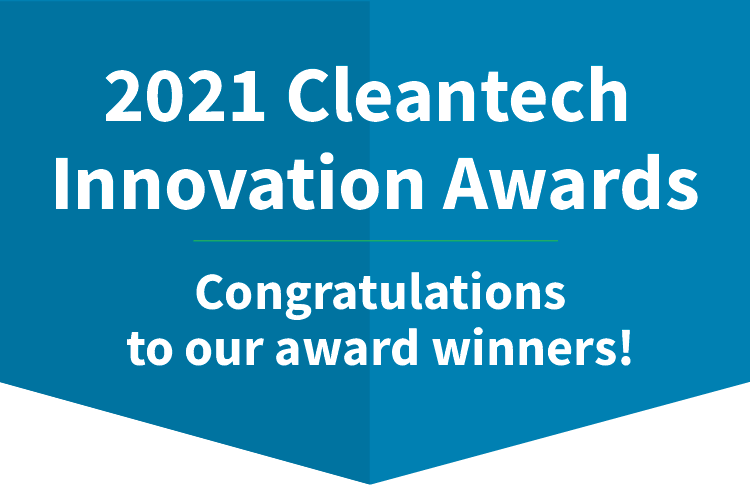 Cleantech Champion of the Year
Cleantech Policy Leadership Award
Cleantech Entrepreneur Award
Cleantech Research Innovation
Equity in Cleantech Award
Diversity in Cleantech
Cleantech Talent Development Award
Cleantech Impact: Energy
Cleantech Impact: Transportation
Cleantech Impact: Water
Cleantech Impact: Local Government
Cleantech Impact: Economic Development
IMPORTANT DATES
NOMINATIONS ONLINE
August 3 - September 9, 2022
AWARDS CEREMONY
November 9, 2022
SAS Institute
Cary, N.C.
---
SPONSORSHIPS
---
PHOTO GALLERY
See photos from the 2021 Cleantech Innovation Awards event.
---
PAST NOMINEES & FINALISTS
Stay connected with news, trends, events, and job opportunities from the North Carolina cleantech community.
©2022 RESEARCH TRIANGLE CLEANTECH CLUSTER