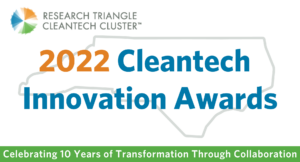 RTCC Launches 2022 Cleantech Innovation Awards Nominations to Spotlight Advances in Clean Technology Across North Carolina
Nominations for the Research Triangle Cleantech Cluster's 2022 Cleantech Innovation Awards are open through September 9, 2022
RALEIGH, N.C. (August 3, 2022) – The Research Triangle Cleantech Cluster (RTCC), an initiative of business, government, academic and nonprofit leaders focused on accelerating the growth of the statewide and regional cleantech economy, has opened nominations and event registration for the 2022 Cleantech Innovation Awards. Award nominations will be accepted through September 9, 2022. The awards ceremony will be held on Wednesday, November 9, 2022 from 4:30 – 8:00 P.M. at the SAS Institute in Cary, N.C. At the event, RTCC will celebrate both the award winners and the 10-year anniversary of the organization.
RTCC's Cleantech Innovation Awards recognize the people, organizations, and projects driving cleantech innovations, creative deployment solutions, and workforce development initiatives that are expanding the reach and impact of the cleantech sector in North Carolina. Award categories for the fourth annual Cleantech Innovation Awards recognize individuals, small teams, organizations, local governments, and industry partners who have demonstrated a positive impact in clean energy systems, smart utility technologies, clean transportation, and workforce development across eleven (11) award categories. Award nominations will be reviewed by a committee of leaders from industry, academia, and the public sector, and both nominees and award winners will be highlighted through RTCC and media outreach.
"As RTCC celebrates it 10-year anniversary, we are excited to once again recognize the outstanding contributions of all those working in North Carolina's cleantech sector to drive technological innovation, creative cleantech deployments, and creative workforce solutions that benefit citizens, communities, companies, and the climate," said Dr. Deb Wojcik, Executive Director of the Research Triangle Cleantech Cluster (RTCC). "We look forward to bringing together the cleantech community at our event and honoring the innovative work being done to advance the cleantech economy across the state through our wide range of awards."
The award nominations are now open and feature the following eleven (11) categories: 
Individuals & Small Teams
Cleantech Champion of the Year
Cleantech Entrepreneur Award
Cleantech Research Innovation Award
Organizations
Equity in Cleantech Award
Diversity in Cleantech Award
Cleantech Talent Development Award
Cleantech Impact Awards
Cleantech Impact: Energy
Cleantech Impact: Transportation
Cleantech Impact: Water
Cleantech Impact: Local Government
Cleantech Impact: Economic Development
All award winners will be invited to a VIP networking reception with industry peers and will be recognized at the Annual Cleantech Innovation Awards Ceremony, which will take place on Wednesday, November 9, 2022 at SAS Institute in Cary, N.C.
Learn more about how to partner with RTCC as a sponsor for this event. 
About Research Triangle Cleantech Cluster (RTCC)
The mission of the Research Triangle Cleantech Cluster (RTCC) is to accelerate growth and leadership of the cleantech economy, leveraging the unique concentration of industry, academic, and government leaders in the Research Triangle to create benefits through innovation, deployment, and talent in the region, North Carolina, and beyond.
Press Releases