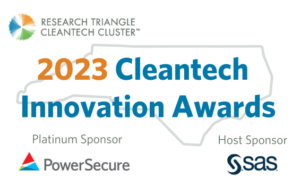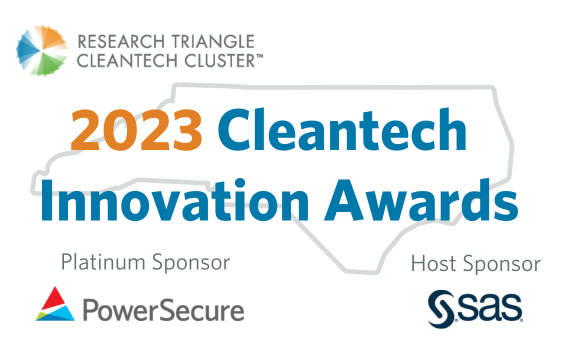 Nominations Open for RTCC's 2023 Cleantech Innovation Awards, Showcasing Advances in Clean Technology Across North Carolina
The Platinum Sponsor of the Research Triangle Cleantech Cluster's 2023 Cleantech Innovation Awards event is PowerSecure, the nation's leading distributed energy infrastructure company.  
RALEIGH, N.C. (September 5, 2023) – The Research Triangle Cleantech Cluster (RTCC), an initiative of business, government, academic and nonprofit leaders focused on accelerating the growth of the statewide cleantech economy, has opened nominations and event registration for the 2023 Cleantech Innovation Awards. Award nominations will be accepted through September 15, 2023. Supported by Platinum Sponsor PowerSecure, the awards ceremony will be held on Thursday, November 16, 2023 from 4:30 – 8:00 P.M. at the SAS Institute in Cary, N.C. The event will celebrate the award winners and their innovations in cleantech, feature brief talks by thought leaders, and include a networking reception
RTCC's Cleantech Innovation Awards recognize cleantech innovations, creative deployment solutions, and workforce development programs from the people, organizations, and government agencies that are expanding the reach and impact of the cleantech sector in North Carolina. Award categories for the fifth annual Cleantech Innovation Awards recognize individuals, small teams, organizations, local governments, and industry partners who have made positive impacts in clean energy systems, smart utility technologies, clean transportation, and workforce development across eleven (11) award categories. Award nominations will be reviewed by a committee of leaders from industry, academia, and the public sector, and both nominees and award winners will be highlighted through RTCC and media outreach.
"RTCC looks forward to bringing together the cleantech community to celebrate a wide range of innovative work advancing the cleantech economy across the state," said Dr. Deb Wojcik, Executive Director of RTCC. "We will once again recognize the outstanding contributions of all those working in North Carolina's cleantech sector to drive technological innovation, beneficial cleantech deployments, and creative workforce solutions that benefit our citizens, communities, companies, and the climate. We are thrilled to have the support of PowerSecure and our other sponsors as we recognize the outstanding accomplishments and opportunities in cleantech this year."
The award nominations are now open and feature the following eleven (11) categories:
Individuals & Small Teams
Cleantech Champion of the Year
Cleantech Entrepreneur Award
Cleantech Research Innovation Award
Organizations
Equity in Cleantech Award
Diversity in Cleantech Award
Cleantech Talent Development Award
Cleantech Impact Awards
Cleantech Impact: Energy
Cleantech Impact: Transportation
Cleantech Impact: Water
Cleantech Impact: Local Government
Cleantech Impact: Economic Development
All award winners will be recognized at the Annual Cleantech Innovation Awards Ceremony, which will take place on Thursday, November 16, 2023 at SAS Institute in Cary, N.C.
Learn more about how to partner with RTCC as a sponsor for this event. 
About Research Triangle Cleantech Cluster (RTCC)
The mission of the Research Triangle Cleantech Cluster (RTCC) is to accelerate growth and leadership of the cleantech economy, leveraging the unique concentration of industry, academic, and government leaders in the Research Triangle to create benefits through innovation, deployment, and talent in the region, North Carolina, and beyond.
About PowerSecure
PowerSecure, a Southern Company subsidiary, is the nation's leading distributed energy infrastructure company with +2GW of microgrid capacity developed, installed, managed, and serviced over the past 20 years, resulting in more than $900 million in energy efficiency upgrades. PowerSecure's full-facility, lifecycle approach through production and management, delivers clean and resilient energy to customers at the best possible value. Combining product innovation capabilities with a 360 integrated delivery model enables innovative energy transition solutions to be deployed effectively and efficiently to provide custom solutions for customers' power requirements. For more information, visit:  https://powersecure.com/
Press Releases